Wanderlust Layout Deconstructed.
Wanderlust - Megabundle/Storybook by NBK Designs at The Lilypad
Photo: Stock/Pixabay
Photo...
Thanks to
@Diane's Art
Diane for nominating this layout of mine to deconstruct. It is a favourite of mine and truly there are not a lot of complicated techniques that were used to create it, apart from the stock photo everything else came from NBK Design's stunning kit called Wanderlust!
I adore all of Nicole's collections, all the paints, gesso, styles and such always make my head spin to begin with but then when I start to play with them I love seeing them all come together on my pages.
However, I did use a Photoshop action and a PSD Smart Object template to give the photo a more painterly effect, plus AKVIS for sketch part
. But I think you could substitute other painterly/sketch filters within Photoshop or Elements to get similar effects.
The main technique used throughout this layout is BLENDING, you all know how much I love doing that! LOL!
Writing down the steps on how to create a layout is always so hard. You all know that creating a layout is not done in linear steps, that we often will chop and change things as we progress so that sometimes we end up with something totally different to what we started out to do!
So what I have done with this deconstruction is to first break up the type of products I used in the layout into different sections, working my way up from the bottom of the layers to the top. The graphic below shows how the layout comes together by turning on each section as we progress. More info on each section and what I actually did appears after the graphic.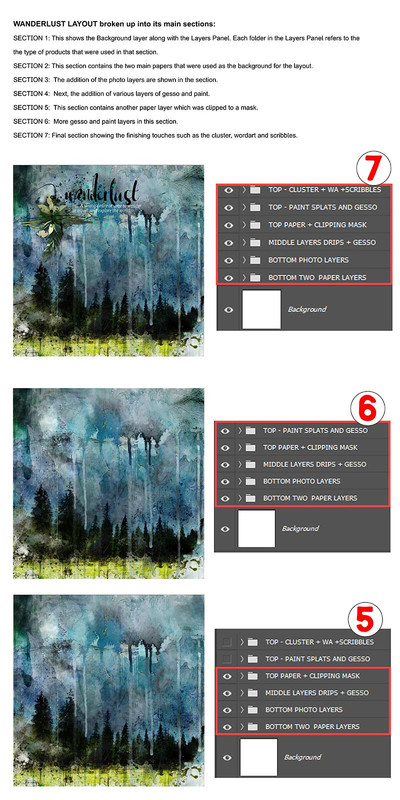 So let's get started:

SECTION 1:
This shows all the folders containing the different layers broken up into sections.
SECTION 2:
I used two papers to create the background as you can see in the graphic below. You will note that a mask has been applied to the top paper to mask the bits I wanted to soften or hide, using a black brush with varying opacity. Both papers are at 100% Opacity and Normal Blend mode.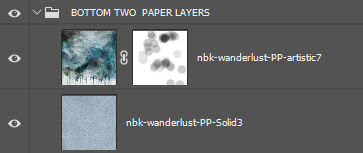 Remember:
I may have added this mask way down the track, not at the beginning, most probably because some of the darker areas in the top paper were interfering with the photo layers that were eventually placed on top of these paper layers. The plain paper right at the bottom was needed to fill in some of the areas that I masked out.
SECTION 3:
This section is all about the photo. It's a stock photo from Pixabay. Don't forget that I used a Photoshop action and a PSD Smart Object Template, plus AKVIS Sketch to work on the photo first. In the graphic below you will see what I did with the photo layers.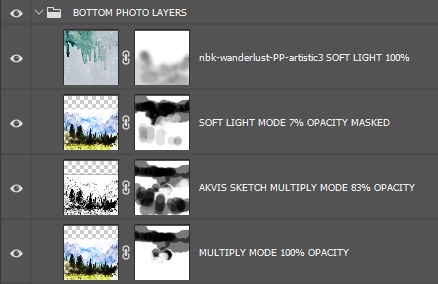 The bottom photo layer is set to multiply mode and 100% Opacity.
The mask has been added to hide/lighten/soften parts of the photo.
Again, this was done throughout the creative process and what you are seeing is the end stage.
Before changing the blend mode, I duplicated that photo layer and took it into AKVIS Sketch to change the photo into a black and white sketch.
After bringing it back into Photoshop I changed the mode to Multiply and added another mask….. actually I copied the mask from the photo beneath and then hid some more areas. Changed the Opacity of that level to 83%.
I duplicated the bottom coloured photo layer (which also included the mask) and then played around with the modes and ended up with Soft Light at only 7%, I only wanted a little bit of light which is why the Opacity is so low. Once again I masked some other areas as well where it was too light.
SECTION 4:
This section houses most of the gesso and overlay type elements I used.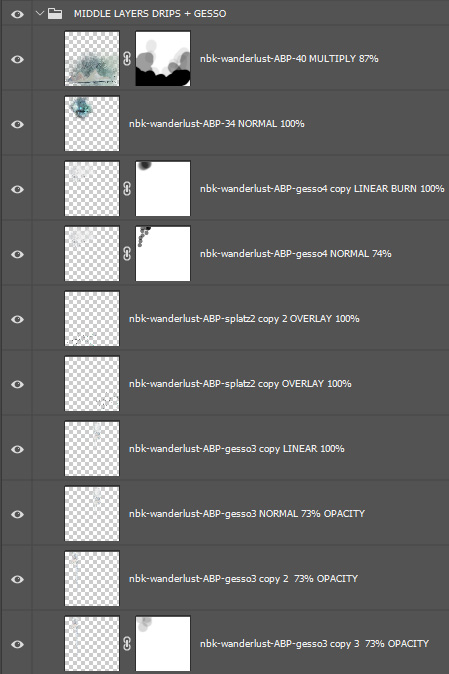 On the graphic you will note that I have entered the blend mode and Opacity % …… can't tell you much more about this section, it's a lot of trial and error when adding these types of files, you really need to see what mode works for your photo.
In most cases you want the paint and gesso elements to add texture, shape or form to your layout, not totally overwhelm it, so always play with the Opacity levels as well.
In some cases I have duplicated the gesso layer, perhaps it was too 'thin' and I wanted to make it appear thicker.
I have also duplicated some paint splatter elements as well, and then changed the duplicated one to a smaller size or turned it around, just so I didn't get a repetitious style where it all looks the same across a page.
If there is a specific question about these layers then please make sure to ask.
SECTION 5:
This section contains a dripping paint element which I used as a clipping mask to clip the same paper I used in Section 1 to. This gives the impressions of the background sort of dripping down the page.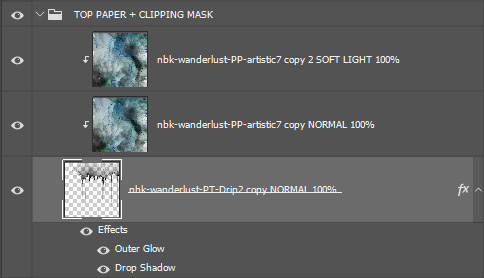 I simply enlarged the paint dripping element to fit the top part of the layout and kept it at Normal blend at 100% Opacity.
I brought in another copy of the paper from Section 1 and clipped it to the paint dripping element below it.
Then duplicated the paper layer and changed the blend mode to Soft Light but kept the Opacity at 100%
You will note that on the paint dripping element there are two different styles, an Outer Glow and a Drop Shadow. This gives the png file just a little more body and structure. The settings I used are shown below:
Drop Shadow settings: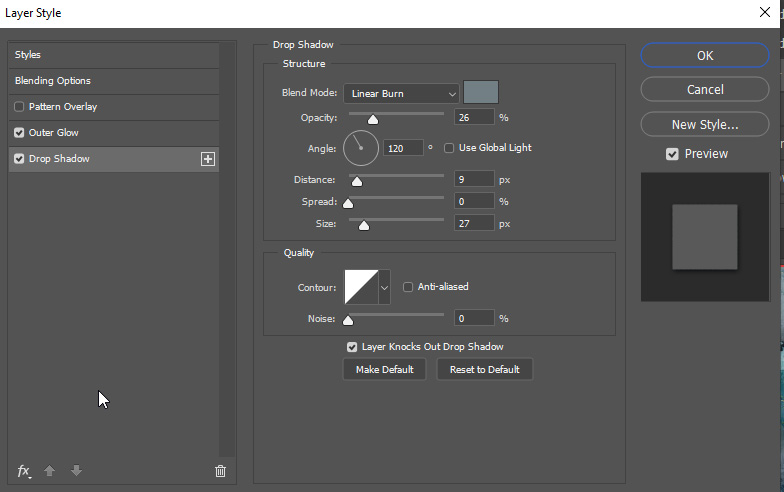 Outer Glow settings: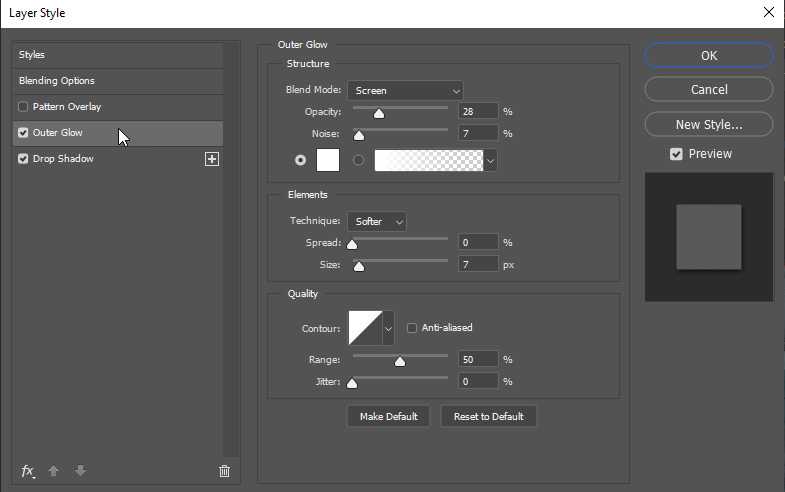 SECTION 6:
This section only contains some gesso and paint splatters that I used to give the layout a bit more texture. Mode and opacity is written on the graphic below.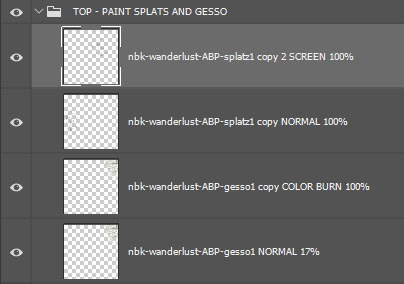 SECTION 7:
The finishing touches are in this section, and appear right at the top of the layers panel as I wanted the cluster, scribbles and word art to really stand out.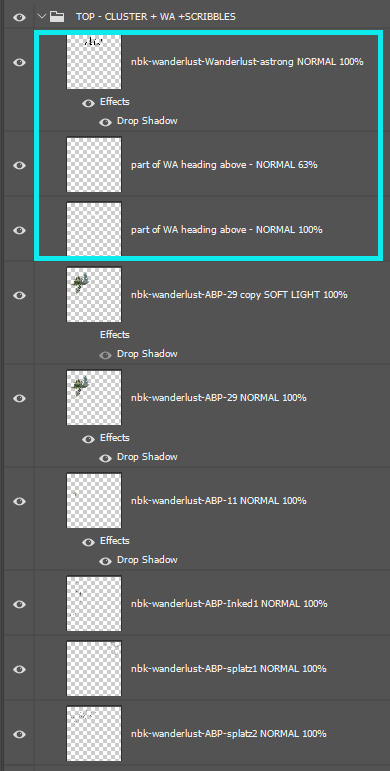 The section outlined in blue in the graphic above is the wordart I used but I cut the wa into the one main heading Wanderlust leaving the smaller text on its own, which I duplicated and changed the opacity down just so it would stand out a bit more than it did.
The rest of the things I used are pretty self explanatory but of course, if you have a question then please ask away.
And that is it. By all means if you want to re-create this layout using the same kit from Nicole then please go ahead, in each graphic shot above you will see the name of the actual file I used, as well as the layer blend mode and opacity % I used.
If you want to try the same process with another photo/kit then I would love to see your results, but remember that you may need to use a different blend mode or layer opacity, depending on what products you end up using.
I hope you enjoy playing around with these deconstruction steps and of course would love to see your completed layouts if you would like to post here.
And by all means if there is another layout you are keen to learn about then please go ahead and nominate it in the thread
HERE
Thanks ladies, until next time!
Ona xxx